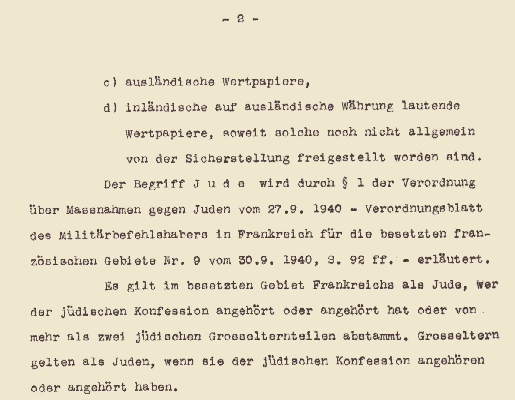 Page 2 from the circular dated 8 th January 1942 of the DEVISENSCHUTZKOMMANDO FRANKREICH, in Paris, explaining the definition of a Jew.
Translate
DEVISENSCHUTZKOMMANDO FRANKREICH REPORT 8.1.1942
Subject: declaration of the Jewish values put in safety
...
The criteria for Jewish identity are given in paragraph 1 of the ordinance concerning measures against the Jews of 27 th Sept 1940, in the Official Journal n° 9 of the Commander-in-chief in France for the occupied French territories, 30th Sept 1940, page 92 ff.
Jews are recognised in the occupied French territories as those who belong or belonged to the Jewish religion, or who have more than two Jewish grandparents. Grandparents who belong or belonged to the Jewish religion are considered Jewish.
...
signed: HARTMANN
On May 29, 1942, all Jews over six years old were obliged to wear the yellow star.